Furniture Moving Tool
Regular price
Rs. 1,799.00
Sale price
Rs. 899.00
Unit price
per
Sale
Sold out
Order On
WhatsApp
Tired of moving heavy furniture while cleaning your home and spraining your back ??

This furniture mover tool makes it easy for you to move your furniture and clean your home because you know you have to call someone from outside to move your furniture in festive times and have to pay big bucks as well. This mover makes your work easy and also cost-friendly.

 Why use this Premium quality furniture moving tool?
It can withstand a weight of 150 kgs so you can easily move furniture or heavy objects.
Clean or move, you no longer have to worry about how to move heavy furniture, moving the pad slider is your ideal choice.

Suitable for any home or office furniture, such as sofas, bookcases, tables, chairs, beds, pianos, washers/dryers, refrigerators, filing cabinets, pool tables, pianos, equipment, sports equipment, etc.

No More backpains while moving furniture by yourself
Budget Friendly.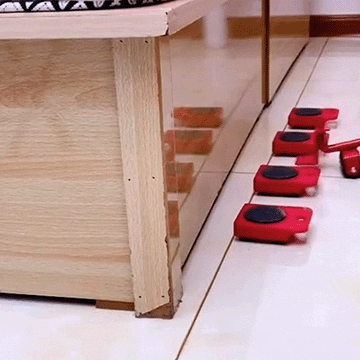 How to Use
Place the furniture lifter under the furniture and lift it up.
 Slide the 4 Mover pads into the 4 corners of the furniture.
 Remove the furniture lifter and move the furniture through the 4 mover pad sliders.
 Move the pad slider only to go straight. If you need to turn, you can insert your finger into the hole in the power crane and turn it in the desired direction.
SPECIFICATIONS:
Features
Easy to use, Hold heavy loads
Type
Easy furniture moving tool
Product Material

steel body, ABS plastic roller, A3 mast, PVC handle, spray surface

Package Contents

1 x furniture lifter

4 x sliders


🚨 

PRICE DROP SALE  50 % OFF |  LIMITED TIME OFFER - SHOP NOW AND GET HEAVY DISCOUNTS

🚨
SHIPPING & PAYMENTS DETAILS
We deliver in mostly

 

5 - 7 business day
We provide the

 

tracking number

 

for all orders so that you can track your orders anytime.
100 % security

 

guaranteed.
Fast Customer services

 

guaranteed.
Secure payment gateways
COD available
No extra shipment on prepaid orders 
SHIPPING & PAYEMENT DETAILS

• We deliver in mostly5 - 7 business days.

• Tracking number provided for all orders so that you can track your orders anytime.

• 100 % security guaranteed.

• Fast Customer servicesguaranteed.

• COD available

• Free Shipping on Preapaid Orders.
Awesome
The products is of enormous help in shifting heavy furniture with ease.
Nice product
Nice product but delivery was very slow thats why i am giving it 4 stars
Superb.
Super strong...! Unbelievable...! Felt just like a dream but it's Real.
First time in past 10 years now I'm able to move my parent's bed Very easily for floor cleaning purpose.
The bed's box is fully loaded with many things but with this it was very easy to move it.
Useful
Very useful . No need for additional manpower. With this tool you can easily move your heavy home furniture writing the room.
Providing you the best products for your daily needs and wants !!