Baby Fruit Nibbler
Regular price
Rs. 500.00
Sale price
Rs. 399.00
Unit price
per
Sale
Sold out
Order On
WhatsApp
Make your Baby adaptive to various tastes now with these cute fruit nibblers 

😍
Make sure your babies are eating healthy by giving them a baby fruit nibbler. They will love the cute colors, and you'll love them enjoying the taste!!
✔️ MINIMUM RECOMMENDED AGE:  5 months.
✔️ Let your baby be adaptive to various tastes at an early age and avoid a bad habit of fussy eating.
✔️ Smart ANTI-CHOKING design silicone food Nibbler's unique design allows only the tiniest food pieces to go through, preventing choking.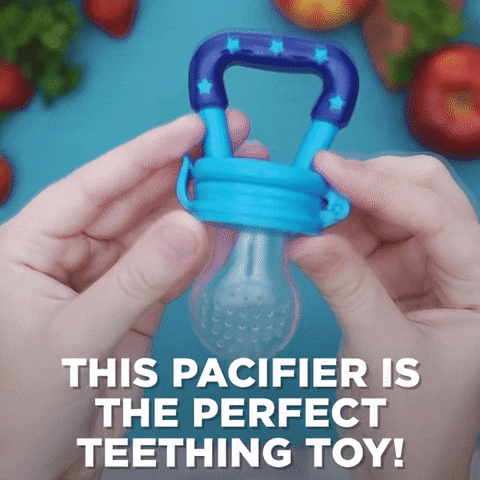 ✔️ Introducing new foods to your baby's diet can be a fun learning experience as it provides him/her with new varying tastes and flavors.
✔️ Self-feeding engages the baby's interest by storing and feeding fresh and frozen fruits, vegetables, and even medicine.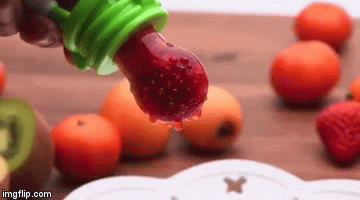 Benefits of using Baby Fruit Nibbler
✔️ Easy for the baby to suck and chew tiny food particles from the mesh.
✔️ Teething is such an uncomfortable period for children and their parents. Our food pacifier for babies also helps a great baby teether. It relieves from baby's irritable gums.
✔️ Safe to use: The baby fruit nibbler is made from food-grade polypropylene plastic which is non-toxic, BPA Free, Latex Free, and Petroleum Free.
✔️ Baby can chew on these at his pace while being fed with minimal supervision.
✔️ The 2-In-1 purpose is both a fruit holder and teething toy that massages a baby's gums, simulating mouth muscle development.

SPECIFICATIONS:
| | |
| --- | --- |
| Features | Easy to use, Taste adaption, Teething  |
| Type | Baby Fruit Nibbler |
| Product Material | Food Grade polypropylene  |
| Minimum Age  | 5 Months |
| Package Contents | 1* Baby Nibbler  |


SHIPPING & PAYEMENT DETAILS

• We deliver in mostly5 - 7 business days.

• Tracking number provided for all orders so that you can track your orders anytime.

• 100 % security guaranteed.

• Fast Customer servicesguaranteed.

• COD available

• Free Shipping on Preapaid Orders.
Good nibbler
Good product.. easy to clean.. its softness is appropriate for babies. I think it is easy to use above 5 month baby. I liked the delivery system as well- so excellent service.
Beautiful color and awesome product
This baby nibbler is by far the best one I got online for my 6-month son and really is helping my son to eat and taste properly and he is loving it and the color gets him excited
Not Good
Not good received it so late and my baby used it for some days only and after that he never used it till day
Providing you the best products for your daily needs and wants !!