Acupuncture Back Stretcher
Regular price
Rs. 1,299.00
Sale price
Rs. 599.00
Unit price
per
Sale
Sold out
Order On
WhatsApp
Say Goodbye to your back pain and be in the form now 
😍
Back Stretcher uses stretching and acupuncture therapy to relieve all forms of back pain by decompressing the vertebrae and improving blood flow through the spine.
Benefits of using this stretcher
✔️ With only 5 to 10 minutes per day, For 2 weeks of proper use. Back Stretcher relieves back pain effectively.
✔️ The best cost-effective solution to heal Chronic back pain, Muscle stiffness, and Sciatic pain from the comfort of your home
✔️ STRETCHING THERAPY & 3 STRETCH LEVELS: Stretching your back is a simple way to improve the health of your spine and release muscle stiffness. In order to improve the stretching experience, the device allows you to set up three different stretch levels for your comfort.
✔️ When you are lying down on the back stretcher, your spine decompresses increasing the vertebrae space and allowing fresh blood to flow into your spinal discs. 
✔️ To improve the effects, our back stretcher also uses 70 acupressure massage points that boost the blood flow even more.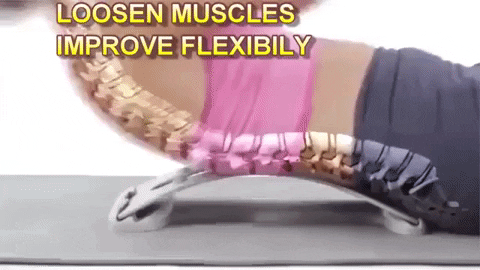 How to use it??
Place the base and the arch on a flat surface with the end of the base facing towards you.
Get on your knees to stabilize the base and adjust the wider side of the arch at the end of the base.
Press with your knees at the end of the base and apply some force to bend the arch.
Finally, adjust the arch to the level you want and lay on top of it to start stretching your back.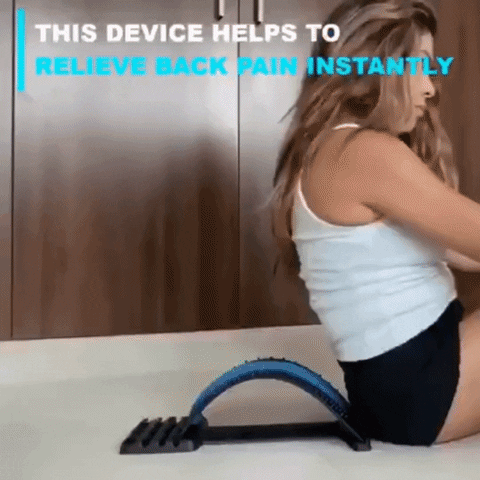 SHIPPING & PAYEMENT DETAILS

• We deliver in mostly5 - 7 business days.

• Tracking number provided for all orders so that you can track your orders anytime.

• 100 % security guaranteed.

• Fast Customer servicesguaranteed.

• COD available

• Free Shipping on Preapaid Orders.
Awesome Back Reliever
The magic back support helps to relieve muscle tension and tightness in a matter of Just minutes
Nice product
Really useful tool to perform lowerback exercises, Helps reduce lower back pain well. The 3 different levels helps in increasing the intensity of the exercise. Very useful for people with back pain.
Nice product
I have kaiphosis because ofthat I have lot of pain in my mid back, it helped me in relieving pain
Providing you the best products for your daily needs and wants !!